Healthy digestion
With no fillers, grains or chemical preservatives, Totally Raw is easy to digest and full of readily absorbed nutrients. All formulas have a limited ingredient list, perfect for pets with allergies and sensitivities.
Another benefit of raw: expect less than half the poop production. Poop from raw fed dogs quickly biodegrades to dust and, even better, your lawn will love it.
Clean, healthy teeth
By three years of age, most dogs and cats have periodontal disease, which is entirely preventable. Dental disease can cause much suffering and severely impact other bodily systems, including kidneys, liver and heart. Feeding a natural diet that includes raw meaty bones will keep teeth and gums clean and healthy. Pets should be given weekly raw, non-weight-bearing bones – never cooked or smoked.
Healthier coat
A clean, pleasant smelling coat is the hallmark of a raw fed pet. When consuming a processed food diet, dogs will rid themselves of toxins through the largest organ in the body – their skin. The result is a greasy, grimy coat that requires regular cleaning. When feeding a natural diet, the coat maintains its lustre with less shedding.
Reduced allergies
Many pets suffer from allergies and food sensitivities. Allergens are often inappropriate ingredients like grains, dyes, fillers and preservatives found in dry foods. Switching to a raw diet is usually all that is needed to overcome allergies and food sensitivities.
Although rare, canines can develop allergies to specific proteins. Raw feeding makes it easy to remove these proteins from the diet.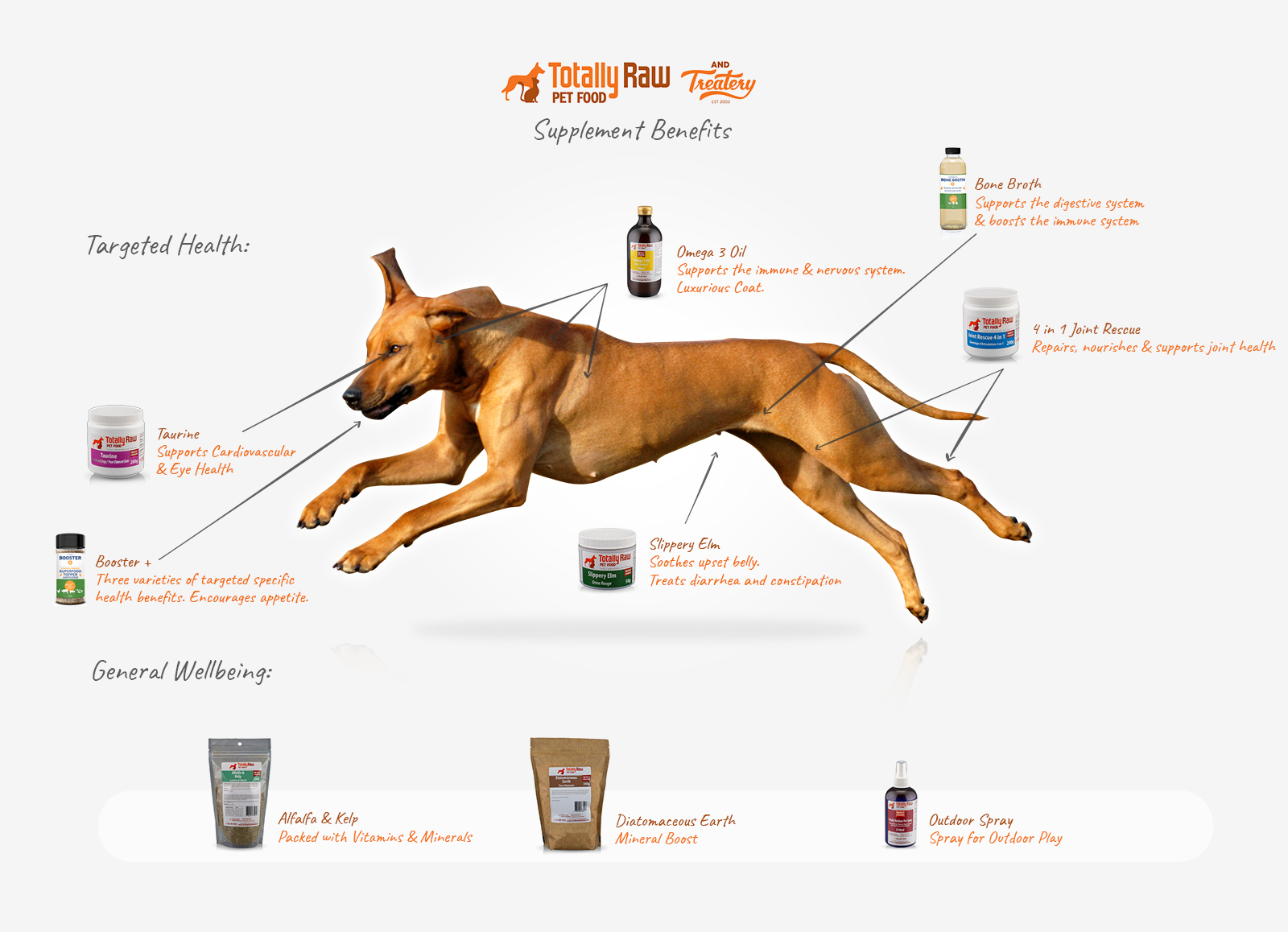 Nature knows best.
We make natural, evolution-based foods. Enjoy peace of mind knowing that your pet is eating the optimal balance of meat, bone, and organ to support better dental health, shinier coats, and improved immune function.

"

You saved my dog's life with raw food. I am deaf and she protects me. She is really my best friend that I depend on every day. Thank you. She is back to my energetic puppy I love. 

 

"

Josee & Sparky

"

I highly recommend Totally Raw to anyone looking for a healthier alternative to processed food. The people there have huge hearts and care about you and your Canine family member. They're always very personable and are willing to help you out any way they can when it comes to the health of your pet.

"

Becky & Roxie

"

We switched our puppy, Scout, immediately and completely from her breeder's kibble diet to the Totally Raw food program. The results were/are amazing. We give much credit to the Totally Raw food program for the ease with which Scout integrated herself into our family. Thank you thank you thank you for your guidance and for the great products you provide.

"

The Langilles & Scout

"

We would like to thank Karen and Doug for the wonderful service of Totally Raw Natural Dog Food. Quality food with easy logistics is not the only service they provide. By ordering from Karen and Doug, customers gain access to expert advice with sincere interests in individual dogs. We have felt supported and welcomed in every exchange we have had with them. They are Goro's heroes!

"

Yukiko, Brook and Goro 

"

The benefits of Raw Food are obvious. Buddy gained and has been able to maintain the perfect weight for his size. Because Buddy eats bones as part of his diet, his teeth remain healthy and white. His coat is also very shiny. He is a happy dog with lots of energy. But, like any lab, he loves to just lay around. Another big plus is the cost – it's cheaper! I highly recommend Raw Diet.

"

Ginger & Buddy

"The best diet is a raw food diet. Science Diet & Hill's dog & cat food products are not good diets. They use chemical preservatives that have been shown to cause problems in some animals & they use by-products, which are words on the ingredient label that need to be avoided at all costs. This generally means food not utilized for human consumption."

Dr. Charles E. Loops

D.V.M.